There are 498,000 workers currently suffering from a new or longstanding work-related musculoskeletal disorder within the UK; posing a growing concern for businesses that are invested in the health and wellbeing of their employees.
Musculoskeletal disorders heavily affect the muscles, joints and tendons in the body, and generally develop over time. MSKs can be episodic (appearing at specific periods) or long-lasting, and can be caused by a person's job, or a work-related accident. They tend to occur as a result of the following factors:
Having fixed or limited body positions,
Repetitive movements,
A force that is regularly applied to small parts of the body (hands/wrists),
Overuse syndrome; and/or
Prolonged incorrect posture.
Due to the prevalence of MSK disorders within the workplace, it's important employers recognise the impact they have on employee's time at work, and the wider impact this will have on business performance. Continue reading to find out more about MSK disorders within the workplace, how to provide support to those that need it and create an environment for happier and healthier employees.
Musculoskeletal Disorders at Work
What classifies a musculoskeletal disorder as work-related? Either the work environment is a significant contributor to their condition, or their condition is worsened or prolonged by workplace conditions.
Areas of the body that are most commonly affected by work-related MSKs are:
Lower limbs – 19%
Back – 40%
Upper limbs or neck – 41%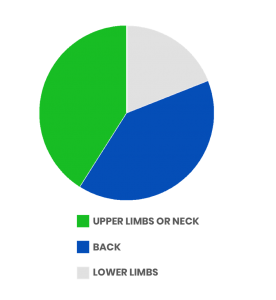 Source of statistics: HSE
Within the following industries, we commonly see higher than average rates of MSKs:
Construction,
Agriculture, forestry & fishing; and
Human health and social work activities.
The Impact of MSKs on UK Businesses
Musculoskeletal disorders have a profound impact on individuals and businesses alike; a staggering 1 in 8 of the working-age population reported having an MSK. In light on this, it's reported that 6.9 million working days were lost specifically to work-related musculoskeletal disorders in 2018/19. What's more, annually new cases of work-related MSDs cost UK businesses over £2.3 billion due to lost productivity, loss of output and having to pay out for agency staff… Can your business afford to take this hit?
Supporting Employees with Musculoskeletal Disorders
To support employees suffering from work-related MSKs, and reduce the risk to others suffering from them, more needs to be put into control and prevention within the workplace. Luckily to a point, prevention is covered by several laws such as Provision and Use of Work Equipment Regulations 1998, Management of Health and Safety at Work Regulations 1999 and Manual Handling Operations Regulations 1992 (MHOR). As well as this, using a Health Surveillance service to ensure the risks are being controlled as far as is reasonably possible is recommended. A Health Surveillance officer will take into account workplace conditions, ergonomics and other factors to suggest how to control the risk of MSKs.
But what about supporting employees that are part of the 1 in 8 that already suffer from an MSK? This is where LycaHealth can help. Employees can get a Free Physiotherapy Assessment with us, to assess their current situation and identify what treatments will be beneficial to them. This may come in the form of physiotherapy sessions or exercises that are recommended to specifically help an individual to cope with their MSK at work. In allowing your employees access to physiotherapy sessions, you're helping them to stay happier, and healthier at work. Businesses will also benefit from employees with greater job satisfaction, taking less sick days attributed to MSKs and generally higher levels of productivity across the workforce.
We provide free physiotherapy assessments which will help to identify and give you the correct diagnosis, so we can then tailor treatment around our findings. We provide a wide variety of physiotherapy practices to help MSKs; contact our team to book your free physio assessment. You can view availability and book online using our online booking system under 'Free Discovery Sessions'.