More people than ever are using private GP services – even those who have never used a private doctor before. So, why choose a private GP?
If you have a medical issue that you would like addressed quickly and effectively at a time that suits you, then a private GP could be right for you. At LycaHealth Private GP Service, based in London's Canary Wharf, you can often book in for same day appointments.
The cost of a using private GP service
Many of our patients find that the service does not cost as much as they might expect and that the benefits of using a private GP often outweigh the financial charge. Being able to make a same day appointment with a private GP and avoid long waiting times is a key advantage. Locating and using a private doctor is a quick and simple process and you have the luxury of choosing a time and location that fits around your busy schedule.
Choice is also a key benefit; if you want to see a female or male GP, for example, you are able to decide who you see.
New patients are always welcome. There is no need to be registered with the NHS to use our service and no lengthy registration process or paperwork is involved.
Reduced waiting times using a private GP service
Our private GP service located in Canary Wharf, for example, allows city-based professionals to schedule appointments to suit their needs rather than trying to fit around the availability of a standard practice timetable. Our team of GPs make it easy for you to been seen at convenient times throughout the day, whether that's in your lunch hour or between meetings. We offer extended opening times with early morning, lunchtime and evening appointments.
With private healthcare test results are usually processed faster
Test results are usually processed faster in the private sector. For example, MRI scan results are usually available within 24hrs and can be emailed (by secure link) or put on disc for you. Referrals and doctor's notes can be sought quickly, and in-house pharmacies take the hassle out of picking up prescriptions. We can also quickly provide you with a fit for work certificate or pre-employment medical certificates.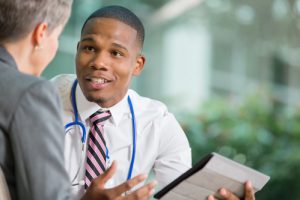 High level of professionalism
Our team of highly trained expert GPs are on hand to provide you with the best service possible. Our GPs are adept at diagnosing a wide range of illnesses and conditions and offer a range of services including family planning, cervical screening and health checks.
The GP clinic also offers the best possible diagnostic equipment and comfortable surroundings. Not having to use a busy waiting room for an appointment can be beneficial for those who are concerned about privacy too. We take pride in our high level of personal care; our world class clinicians and dedicated nurses are on hand to ensure that you have the best possible consultation, advice and treatment.
With a private GP you have as much time as you need
A private GP appointment means never having to rush, and we allow 30 minutes for your appointment. We don't have any rules regarding how many conditions you can talk to us about. Both patient and doctor can take their time investigating the problem and discussing treatments, further tests and follow up care. The average NHS doctor's appointment in the UK lasts 9.22 minutes and is significantly shorter than those enjoyed by other countries around the world. Shorter appointment times lead to more patient dissatisfaction and can adversely affect patient care as well as contributing to the stress and workload of the doctor.1
Having more time has benefits for your level of care. Many people decide to see a private doctor for a second opinion, for example, because they receive more attention and feel less rushed.
Private GPs can provide a complete service
With many services offered at our different locations, being able to diagnose and treat a problem quickly and effectively is much easier using a private service.
At our Canary Wharf clinic, we not only have a private GP service, we offer ultrasound, X-ray and MRI scanning, gynaecology, physiotherapy, osteopathy, urology, haematology and ENT services to name a few. This means that we can provide a complete service, enabling you to undergo any further required treatment or testing. Having a continuity of care under one roof is invaluable for many of our patients.
If you want to find out more about our service or book a private GP appointment at a time that suits you, call us now on 0207 132 1440.