Whilst primarily sought out for injuries sustained during sports, physiotherapy can also improve your sports game. It's invaluable for improving your movement so that you can perform better and are therefore less likely to suffer further injury.
With LycaHealth sponsoring this year's PSA World Tour Squash Tournament at the 15th Canary Wharf Classic 2018 on 5th-9th March, we take a look at three different ways in which physio can improve your sports game.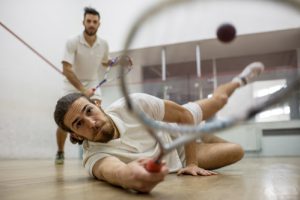 1. Treatment For An Injury
In the unfortunate event of an injury sustained during sports, physio can be useful in getting you back on your feet. A wide range of methods are used in physio, including joint manipulation, soft tissue massage, and fascial release to reduce risk of recurrence, and encourage tissue healing.
Your LycaHealth physiotherapist will carefully screen your injury, often with the help of our superior diagnostic equipment, before recommending and carrying out treatment to suit your needs. Our aim is to improve your strength, function and range of motion; to relieve and reduce pain or discomfort; and to reduce swelling and encourage healing.
What's more, our clinics are conveniently located in Canary Wharf and Orpington, allowing you easy access to treatment without having to travel long distances.
2. Rehabilitation
We know that, as a sports player, you will want to get back to your game as swiftly as possible after an injury. Allowing yourself time to heal can be frustrating and leave you itching to get moving again, which is why our expert therapists work closely with you to help you regain your strength and mobility in a timely fashion. Rehabilitation is an important part of physio, as it allows you to return to your sport in the best condition possible.
3. Prevention Of Further Injury
Once you have completed your rehabilitation, the last thing you would want is to go back to your game only to sustain another injury. This is why our world class clinicians at LycaHealth Physiotherapy utilise specific therapeutic methods to help prevent that from happening.
You will be provided with an individually tailored treatment plan which may include particular exercises, stretches and alterations to improve your movement. Your treatment plan will be unique to your injury, to allow you to receive optimum benefits from your relationship with LycaHealth Physiotherapy.
We are very excited to announce that the winner of the 15th Canary Wharf Classic 2018 will be awarded the LycaHealth Cup. To find out more about the tournament, visit www.canarywharfsquash.com
LycaHealth Physiotherapy is accepted by all major insurance companies, and gives rapid access to imaging (MRI, CT scan, X-ray, ultrasound) onsite should you need it.
For more information, or to book an appointment please call: 0207 132 1440 (Canary Wharf) or 01689 490 111 (Orpington) or visit the LycaHealth Physiotherapy website.