Here at LycaHealth Physiotherapy, we're big on using state of the art technology to help our physical therapy patients. AlterG Anti-Gravity treadmills are gaining popularity due to the many benefits they provide. They are suitable for people recovering from a running injury, people needing lower-body injury rehab, those recovering from surgery and also for athletes looking to improve their performance.
We have the AlterG Anti-Gravity Treadmill at our Orpington clinic in Kent and Canary Wharf clinic in East London, giving you easy access at times convenient to you. Please call us on 0207 132 1440 (Canary Wharf) or 01689 490 111 (Orpington), to book a private appointment with one of our world-class physiotherapists, or read on below.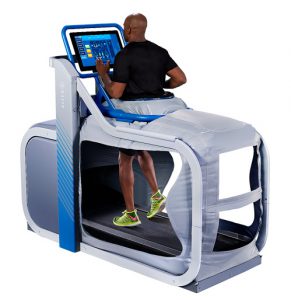 What is an anti-gravity treadmill?
Anti-Gravity treadmills were developed by Robert Whalen, a researcher at NASA, for use in space by astronauts on the International Space Station in order to combat bone and muscle mass loss. Since then it has been developed to help a multitude of issues. The anti-gravity treadmill works by using air pressure technology to underweight the body (counteracting gravitational forces), allowing you to walk or run at 100%-20% of your body weight.
Specific shorts are worn, over the top of leggings or trousers, which zip into the chamber on the treadmill to create a vacuum. The AlterG Anti-Gravity Treadmill chamber is then filled with air and calibrated to support your bodyweight. The air pressure is accurate to 1%, and the clear chamber and Gait Analysis system allow your physiotherapist to analyse your gait and mobility.
Benefits of the Alter-G Anti-Gravity Treadmill
There are many benefits to using an anti-gravity treadmill. Moving and exercising with less weight on the joints helps to increase mobility, strength, movement and fitness. Controlled bodyweight training in overweight and obese patients is effective at decreasing pain, and research shows that the use of anti-gravity treadmills can help to restore normal walking and running mechanics, as well as support healing tissue (Chun, Jacon, et al. "Guidleines for using the AlterG Patients with Orthopedic Problems").
What can the AlterG Anti-Gravity Treadmill help with?
Here at LycaHealth Physiotherapy, we use the AlterG Anti-Gravity Treadmill, where suitable, as part of our rehabilitation and recovery plans. Below are just a few of the conditions that we may use the Alter-G Anti-Gravity Treadmill for:
Rehabilitation from injury
Running injury
Recovery from surgery
After joint replacement surgery
Balance and proprioceptive issues
Prevention of muscle atrophy
Gait analysis
Sports conditioning for athletes
Obesity and weight loss
Osteoporosis
Osteoarthritis
Rheumatoid arthritis
Stress fractures
Parkinson's Disease
Multiple Sclerosis
Stroke Patients
Can I use an anti-gravity treadmill if I don't have an injury?
You don't need to have an injury to use the AlterG Anti-Gravity Treadmill at LycaHealth Physiotherapy. Anti-gravity treadmills are used as part of Olympic training to aid with sports conditioning. It can promote peak performance and allow athletes to train at high intensity without the high impact on their joints.
To book an appointment with one of our physiotherapists or to find out if the AlterG Anti-Gravity Treadmill is right for you, please call us on 0207 132 1440 (Canary Wharf) or 01689 490 111 (Orpington)